Okay, recipe post! I'd posted a pic on Instagram  and considering how much we all are slaves of food porn, folks salivated appropriately on there and on twitter. Just in case you wondering I always repay such favors too 😉
So am not this perfect cook. I am your idea imperfect whining cook. Much to my chagrin, I occasionally hit pay dirt and the stuff that comes out of my kitchen appeal to many. With all honesty I can assure you that I do not try hard to get there. It's accidental karma.
These days Asian inspired recipes are becoming mainstream and now I have to go post this recipe coz of the below mentioned reasons:
1. I need a post today and am running in circles finding one. My son turned 17, and I wanted to record his birth story, but the mood isn't there. It's a journey into time and I need to be in a place to do that. I guess I will post it one of these days, coz its on my list to do.
2. Food appeals to all. A good picture of any food is a no-brainer for folks. They follow the sights, smells and taste of food.
3. Folks actually wanted a recipe, so here goes.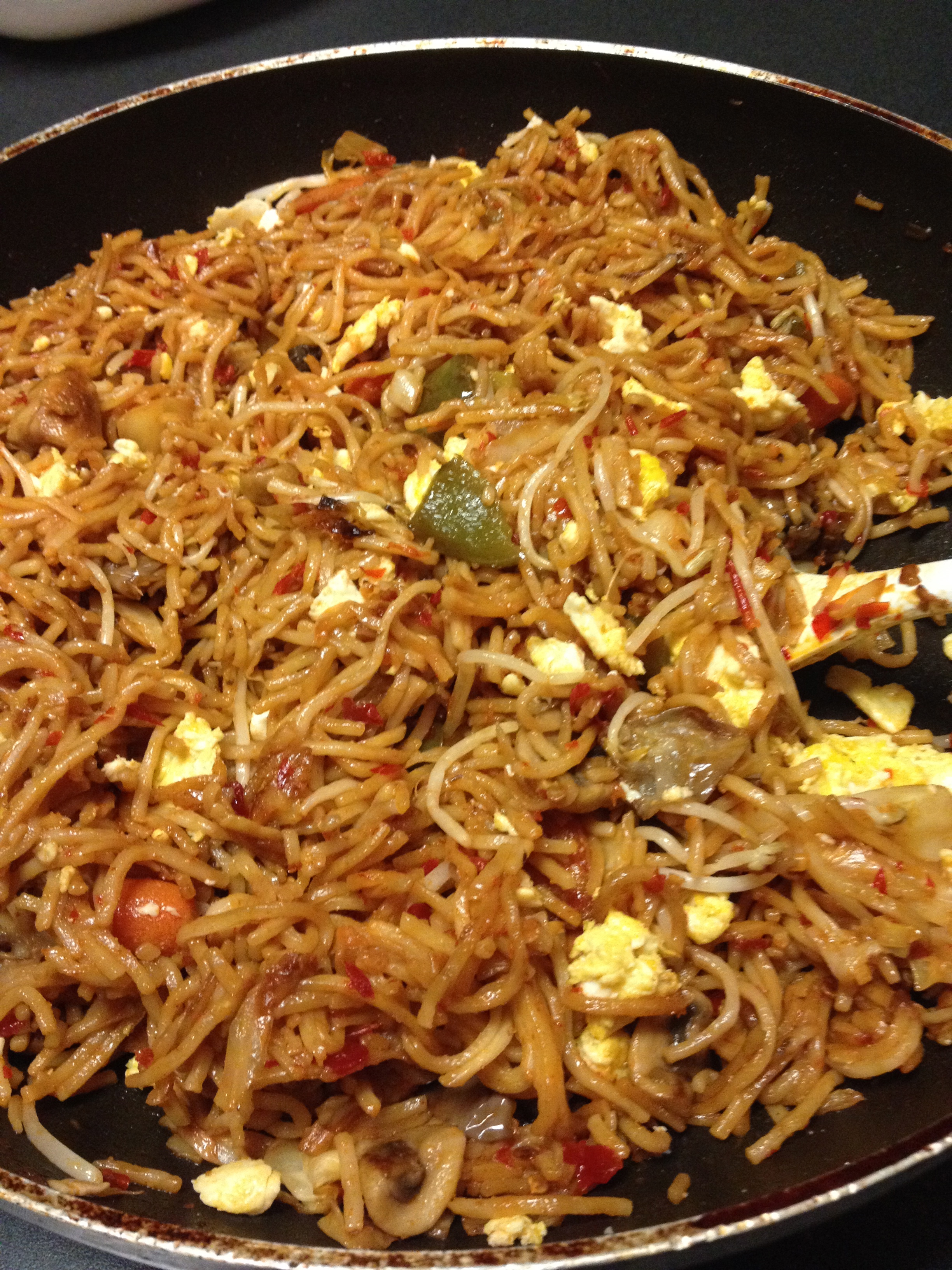 I used Hakka noodles, 1 pack. The vegetable kind.
On a large pan and on high, I used a mix of sesame oil and olive oil and sauté on high heat the vegetables in this order
Carrots, Thin Japanese eggplant, Broccoli, Peppers, Mushrooms, snow peas. Once they look nice and shiny and sautéed well, I added in soya sauce. The rule of thumb and I have no measurements is that you take that bottle and go around the pan. Happily. Let the vegetables coat, not soak. Add 1/2 tsp of sugar.
You boil the noodles in the meanwhile on the other stove. Keep an eye and do not let it go more than 8-10 minutes. You don't want them mushy. Remove, drain, wash in cold water.
Drain well, add to the vegetable pan, and mix it all up, still o high heat.
Once all mixed in, add the chili sauce. 3 hefty teaspoons and you get to see the chili flakes and it's good to go.
I also occasionally scramble an egg or two and throw it in at the end.  If you have mung/ soya sprouts, add them in now.
Mix it all in.
Tada! Want fried rice, just sub rice instead of noodles. Done.
Like? Make and tell me in the comments, I'll come and drool appropriately? 😉