Terri impulsively tagged a bunch of us ladies (wonder why the men got left out), to post a blog-friendly wedding picture of them. Brides are supposed to be at their pretty best. Happy, excited, shy, nervous as hell yet looking like they are completely in command of the situation, and enjoying it too. Yeah, some challenge eh, and the guys think being a bride is easy!
So, I dutifully pulled out the album with a few pictures of our wedding day and as any woman with a few good years behind her would relate, I didn't recognize myself. I looked like a hastily built malnourished scarecrow that got scared out of her mind and ran blind smack onto a red wall, thus landing a bad bruise on the forehead. (yes yes, I know I sound like a broken record, but I shall not forgive the priest, who you see partially there, who kept getting random ladies to apply more and more kumkum on my already red forehead! Check my marriage meme for more detailed cribbing)
Anyways, here's a blog-friendly picture of me during the ceremony.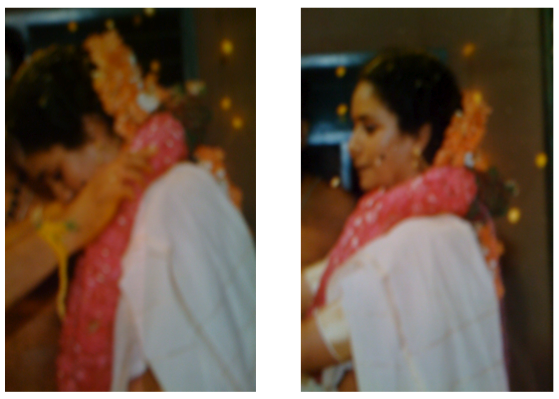 Yes, I know, I look plain, with no jewelry and jazz. My good friend looked more like the bride though of no fault of hers! Don't ask. One of those insanely half-baked idealistic views on minimalism and 'less is more concept' that I stubbornly stuck to. Of course I conveniently blame the mother now that she should have told me better, but like I was listening then. Apart from a few other heartfelt reasons, this alone makes me want to go exchange vows again, and maybe I just will too, considering all.
Today marks 16 years since the husband and I decided to stick it together. Yes, we met on the 1st evening, and made it official on 2nd morning. Stop smirking about the dates, the jury's still out on who or even if we got fooled. Okay, that joke's become boring and I shall cease.
So which one of you fine folks want to show us how you looked on your special day? That includes men. Consider it a tag.