A Keto Menu Plan That is Vegetarian?
When I say Vegetarian Keto Menu Plan, I mean with a menu plan with vegetables, cheese, and eggs. I eat eggs, but can't eat them daily or in large quantities, so am always balancing it through the week.
I keep my keto eating very simple. Following a keto lifestyle, is watching nutrients, calories, deficits, and macros AND managing the rest of the kitchen for the family is HARD.
Do not let anyone tell you otherwise. Really. 
It is even hard for someone like me who has been following a low carb diet for 2 years, and every time I tighten my belt and decide to do hardcore keto from the low carb way of life, it is a challenge. Knowing recipes, knowing what to cook, what to eat and when to eat, and what to do when hungry is a LOT of brain work. This is just the eating part, and am not going to talk about other parts of our days. Our work, responsibilities, interests (and kids) and duties ALSO require our concentration and attention, so it isn't at all a breeze.
So How Do We Do This And What Helps?
Planning.
Menu planning. The times when I do not menu plan, I know I will fall off the wagon by the 5-6th day. The temptation is real and the cravings are real and the social obligations are real, PLUS I COOK regular food for the family, so there is always rice and daals (lentils) and bread lying around the house, forget sweets (which are limited in any case)
Interestingly, the times I menu plan, buy groceries accordingly, stick it on my refrigerator and plan and have backups for when hunger strikes, my success rate of staying longer increases dramatically.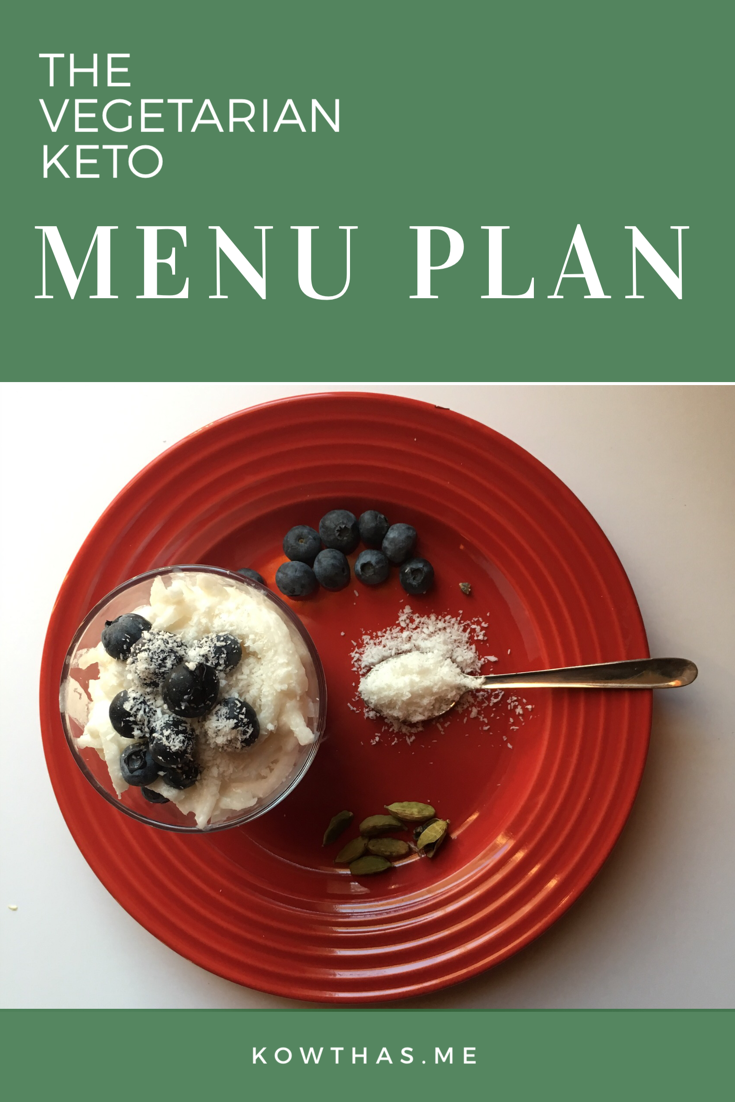 KISS – Keep It Simple Silly
I've also found that when I keep things simple, the results are clearer. In this case, simple also can mean boring to some. It's okay. The journey is only part of it, coz the rewards are plenty. The point is when you keep the same basic ingredients constant and as close as possible to their natural state, the body is in a much harmonious place. This is the perfect place for it to heal itself to health and so it is only right to just stay with it.
You eat to heal. You eat for health. That is the priority. The tongue is not always important 😉 The tongue can get important once you settle intoa  rhythm and your mind is trained to think of food in terms of healthy and wlel, not healthy
Below is the 6-day menu plan. I do not have macros because it's easy to calculate, plus each of us has different numbers to work with anyway.
2 rules:
Weigh and record every ingredient on a calorie counter.
Eat only when hungry.
Vegetarian Keto Menu Plan for A Low Carb and Keto Lifestyle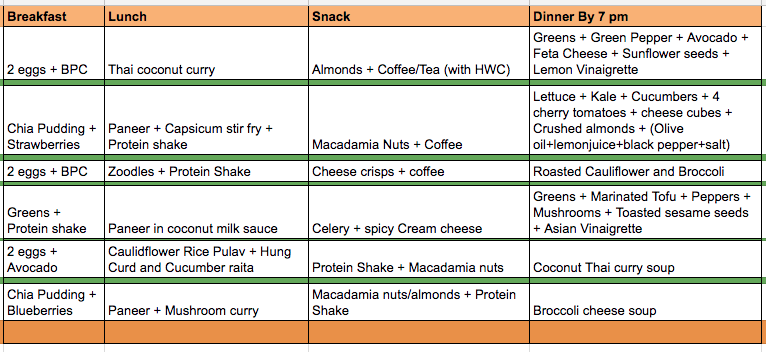 To keep things simple, I eat the following every single day, without fail. The list below are for hitting my protein macros.
Carbs are stringent.Fat is flexible. Protein is your goal. So hit your protein goals and macros and your body will thank you for it. 
Eggs (1 or 2 depending) – 7-14g of protein (or 1 oz of chia seeds = 5g of protein)
Protein Shake (1 serving)- 28-30g of protein
Macadamia Nuts (1 cup) – 11g of protein (It's also high in fat, so 1 oz is plenty) 
Cheese (1 oz) – 7g of protein (I eat at least 2-3 oz) 
Calculate them and you have about 50g of protein approximately. Vegetables, almond milk, HWC or other greens you eat also carry protein, so you will add some more to your protein macro tally.
Simple right?
So pick something that is a standard list. Make sure you have these always at home. Make sure you eat them by the time dinner comes around, and you will not be stressed on staying on it.
Here is one more Vegetarian Menu Plan for the Keto Diet and Lifestyle
Most of the recipes are found in my posts. I've linked a few.
Plenty more recipes on Instagram – under the Hashtag #VegKetoByRads – Now you can follow the hashtag as well, so subscribe if you would like.
Let me know if this helped you and if you would like me to write more about Keto or the Low Carb lifestyle and healthy eating and living. I'll be happy to!