Am always looking for vegetables that can be spiralized, and since am also looking for low-carb vegetables, I've pretty much landed on the gourd family. This one came about coz that is all I had at home, and I was so hungry that I was on the verge of falling off the wagon.
Cucumbers are awesome, coz they are so full of water, crunchy, easy on calories and versatile for munching, dipping and a low-cal dish where there is no cooking involved. This one is by using the flat blade in the
Paderno Spiralizer
– one that I use on and off and find it fascinating apart from the usefulness of making your vegetables look all curly and pretty.
Making the peanut sauce is a breeze and requires very little time, so this is a quick dish that comes together pretty fast.
Cucumber Noodles in Spicy Peanut sauce
This one is keto-friendly, low carb (1 large cucumber is 9g of net carbs), high fat, and high on taste. My daughter was grabbing noodles off my plate and having them while wolfing down her Chipotle 😉 So, yes, it's kid-friendly too
For the Peanut Sauce: (Makes 1/2 cup)
1 tbsp peanut butter (make your own or choose low-sugar)
1 tbsp Soya Sauce
2 tbsps Vinegar
2 tbsps Red chilli paste
1 tbsp sesame oil
2 cloves of minced garlic
1 tsp of grated ginger
Optional:
1 tbsp MCT oil (this is to purely boost fat content, you could skip if you'd like)
1/4 tsp sugar or honey or sweetener (I did not)
The Vegetables:
1 large size cucumber – spiralized (weighed 250 grams)
2 tbsps of scallions
2 tbsps coriander leaves
What Now?
Use the flat blade of the spiralizer to spiralize the cucumber into pretty ribbons!  
Place the ribbons in a large colander and let all the excess water drain.
In a large bowl, mix all the above ingredients for the sauce and let it sit for 15 minutes. (chilli paste is what I used. I ran out of it so used flakes instead in the pic – pls adjust ;-))
Arrange the cucumber ribbons on the plate and add the sauce.
Add scallions and peanuts and coriander leaves and eat it all up!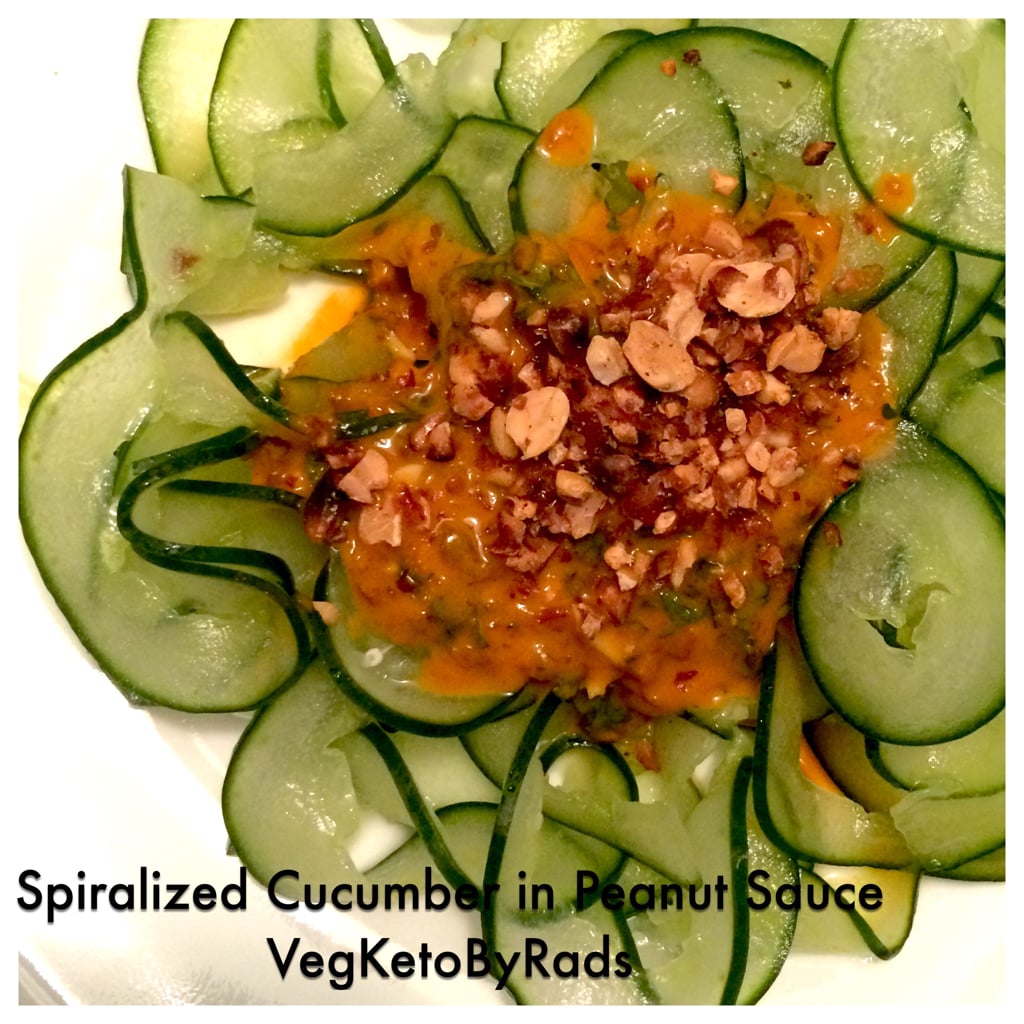 Tada! Lemme know if you like it and as always check Instagram.com/rads02 – and click on the hashtags – #VegKetoByRads and #Radsgetsfit for other keto/low carb foods that am making and eating. 🙂