They say, once you know something, it is SO HARD to unknow it.
I speak about real world facts as much as about abstract concepts. Our brains are more logical than we give credit for, and they are always looking for the WHY and HOW behind a stated fact and more of us than not learn to question status quo. That's a good thing. That's how one grows.
Of course, for ones who indulge in such questions,  this is also a trigger and perfect lab setting for headaches and sleepless nights, but that is how we grow and learn and do the grunge work for the rest who do not ask questions but obviously help maintain the calm and sleep for us too. 🙂
So, you are on the keto (low-carb diet) and pretty much the first question many ask is
"Do I have to give up my beer or wine? I'll become a social pariah and lose my Friday night cool kid membership!" 
Yes, of course, you can drink! Just some, though. 
Which ones?
Water. 
What?
Yes. 
Water? 
Yes. Tons of it. 
You kidding me right>?
No. Drink water! What's wrong with water>?
Plenty! It does not have a cool kid factor. It won't relieve my stress AND I can never get high on it. 
Oh right. 
So?
So what?
Dude. 
Okay fine. You can have wine. 
Oh yay! what else? 
Vodka. 
Fantastic! 
Yes, vodka. Vodka's good. 
Ok, what else?
Why do you need more?
There aren't anymore?
I didn't say that. 
Then what are you saying?
Am saying nothing. 
Say something. 
What do you want me to say?
Ok, am gonna kill you. 
No, you won't
Try me?
Fine! Have some Rum! 
And?
What makes you think there's an AND? 
Coz. 
…
…
alright alright! Go have some Tequila and some Whiskey and some Gin.
I LOVE YOU! 
Yeah yeah, I love you too.  
*the harp plays as shadows fade into the sunset*
***
It's all true. That script I mean.
This is a neat handy guide for starters. The web is full of low carb drinks and guides, so feel free to google, but knowing this will help you.
CHEAT SHEET
Bottomless pit: Vodka, Whiskey, Rum, Tequila and Gin = 0 carbs.
A glass a day: Red and white wines.
Alarm bells ring in distance: Beers.
Alarm bells going wild creating a din: ALL COCKTAILS.
I used to binge on cocktails and then wonder why I felt like crap after. Now I drink a glass of wine and sometimes two and feel okay. However, being on keto means you eat less and far out. Which also translates to the fact that your stomach is empty for longer periods of time, so the alcohol does kick in faster and hence it's misunderstood that your tolerance has gone down. It hasn't, it's just the way your body's changed now coz of your metabolism and glycogen stores.
Apart from hard liquors, champagne's the best if drinking wine (why not celebrate while we are alive and kicking?), though technically plenty sweet wines like Zinfandels, Resiling, Moscato and such are best avoided.
Any and all mixed drinks are all sugar stores and left alone.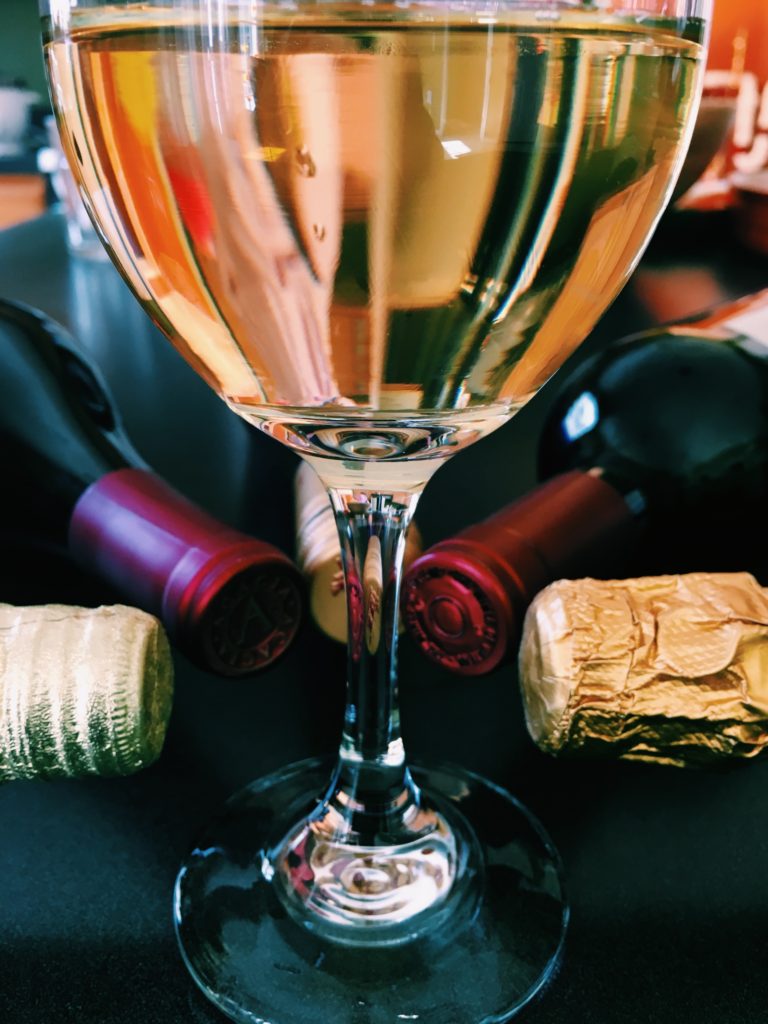 So what do you mix (or chase) your drink with?
Seltzer, Soda and even some sugar-free syrups that help a ton. I like Torani.  These syrups even help when you want to make a cold coffee and add onto strawberry whipped cream desserts or even to mix into sugar-free desserts/macaroons/chocolates etc.
LOW CARB DRINKS THAT I LOVE:
Costco's been stocking Bai since last summer and we love it! Especially the coconut flavor.
Mix some Vodka with some zero calorie Powerade.
I make red wine sangria with equal parts of low carb red wine, vodka, and club soda and add some smashed strawberries. It's pretty yum!
Sugar-free ginger ale with any of the spirits. I usually stick with vodka and tequila.
A friend makes a low-carb mojito. Crush lime and mint leaves and add 1 measure each of vodka and soda. Mix in 1 pack of Stevia. Pour it over ice with some mint!
Lemon water is the best of course
My order at Starbucks is always this: Tall Americano with Heavy whipping cream and Sugar-Free Vanilla/Caramel syrup. 🙂
If I need something cold, I pretty much do the same. Iced coffee + HWC + sugar-free caramel syrup.
***
All it really requires is a fair amount of label reading and knowing the ones that are safe. Anything with added sugar is a NO. Rest are all googleable for nutrition. In the age of smartphone, that's really a no-brainer 🙂
FORMULA:
Liquors/Cocktail: 
The main spirit + the mixer + maybe a fruit (berry) + a sugar-free syrup to help you along. 
Non-spirit drink: 
Various zero calorie/low-calorie liquids + taste (chocolate/coffee) + flavor with sugar-free syrups 
What is your favorite drink and have you thought of finding a low-carb alternative?
***
This is part of the #AtoZchallenge where I am posting a recipe a day mostly related to Keto or the low carb diet. If you are new and here the first time, these are the earlier posts:
A – Grilled Asparagus with Lemon Butter 
***