Eggplant fries. Yes! Eggplant fries exist and I have proof!
Apparently, 1 in 3 people hate the eggplant! I was one of those haters until I moved to the US and then well, started adulting. Life comes at you fast when you are in an alien land and crave home and you have to adapt and create your own memories. I would eat only "Indian vegetables" – Today I eat all vegetables and I try them all, and most of the times adapt it to the Indian cuisine. It's progress and the way we survive and adapt, coz what else is living if we don't continue to move right?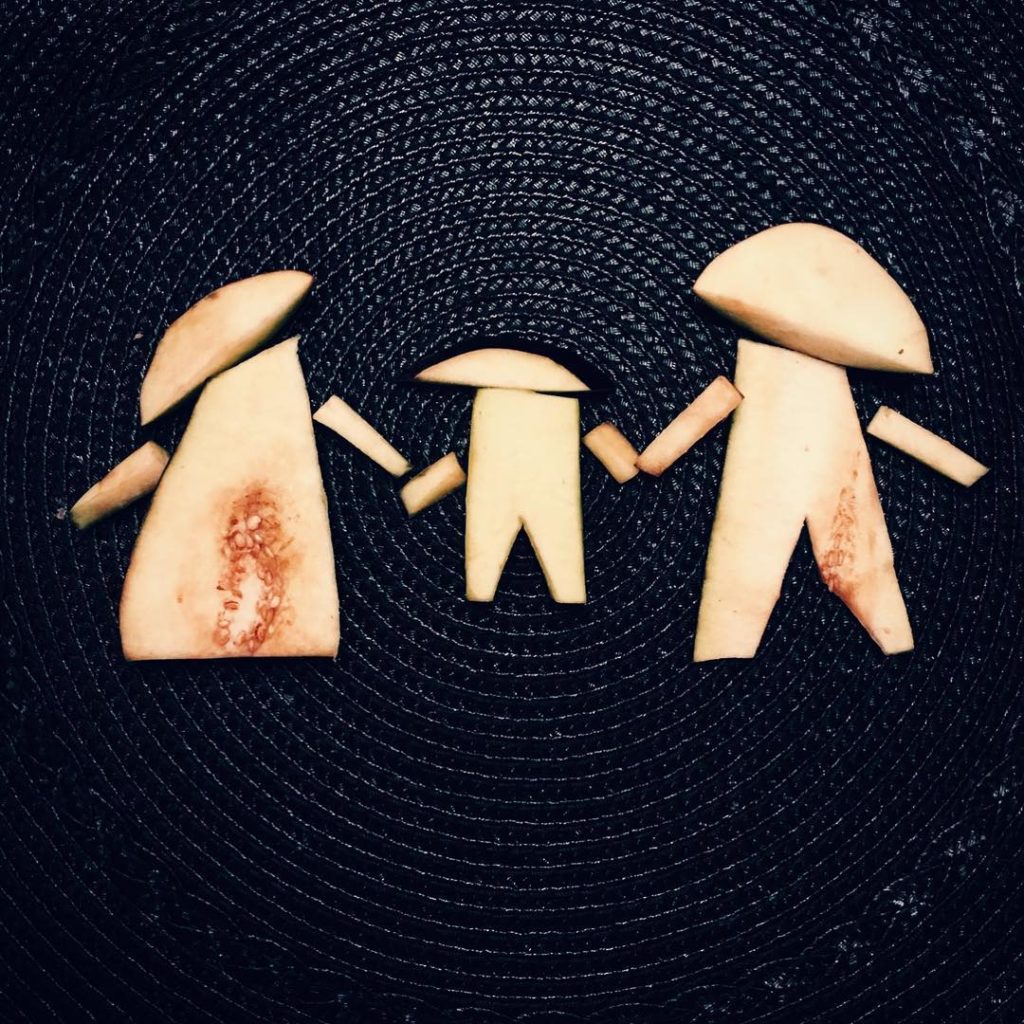 So Eggplant Fries. While on the low-carb diet, you are allowed to work with only some vegetables and so one gets creative. Eggplant pizzas are super common. I have this on my Instagram – and there are plenty variations of it out there. Super yum and easy and quick enough.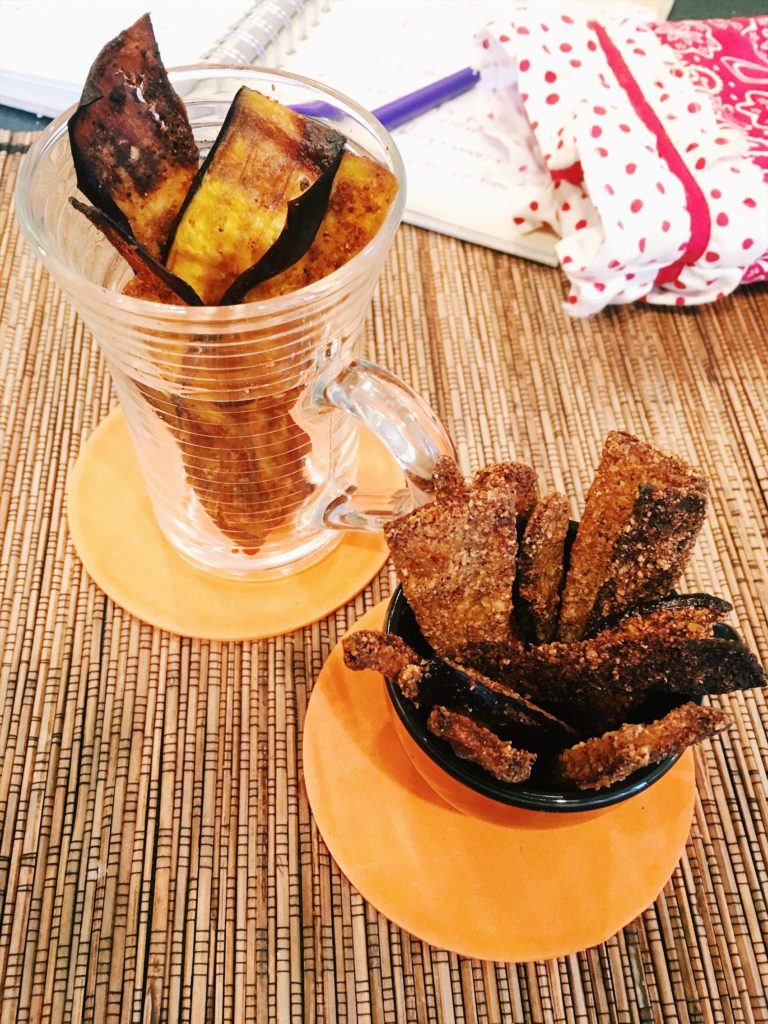 Fries come out as nice thick wedges. The potato is of course, tastier but they can step aside once you've tasted this. I tried both the thin and thick variety and without further ado, here it is.
EGGPLANT FRIES
This is the thick variety and is meatier that way and one American eggplant goes a long way. I usually stick to using the outer thick parts and leave the inner seed part out.
Slice the eggplants into 3-4 inch long pieces, and slightly thick, so they hold their own.
Make a mix of powdered Parmesan cheese and a pinch of garlic salt. Then, use whatever flavoring you'd like (Taco seasoning, Schezwan spice mix, red chilli powder, Maggi seasoning, chaat powder, garam masala, whatever works for you) and mix it in well.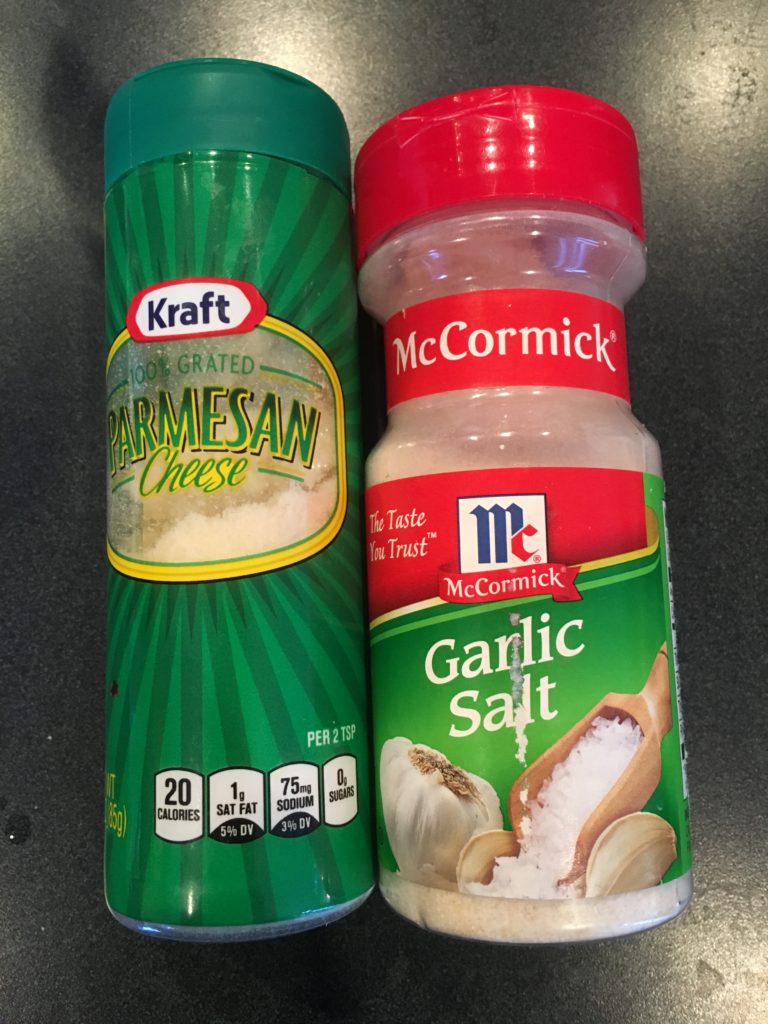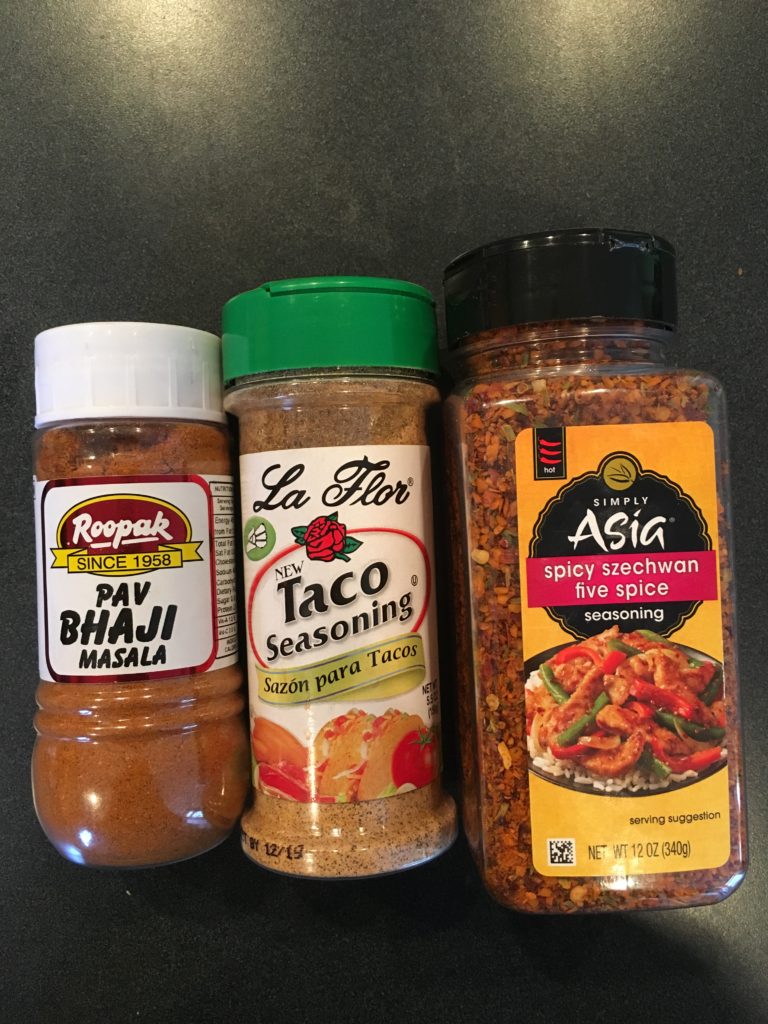 I heated some coconut oil in a plate for coating. You could use an egg wash instead but I don't use egg if I can help it. Works the same way in this case.
Next, take each wedge and roll it in the coconut oil and then into the cheese-spice mix and lay it in the baking tray. Continue with the rest.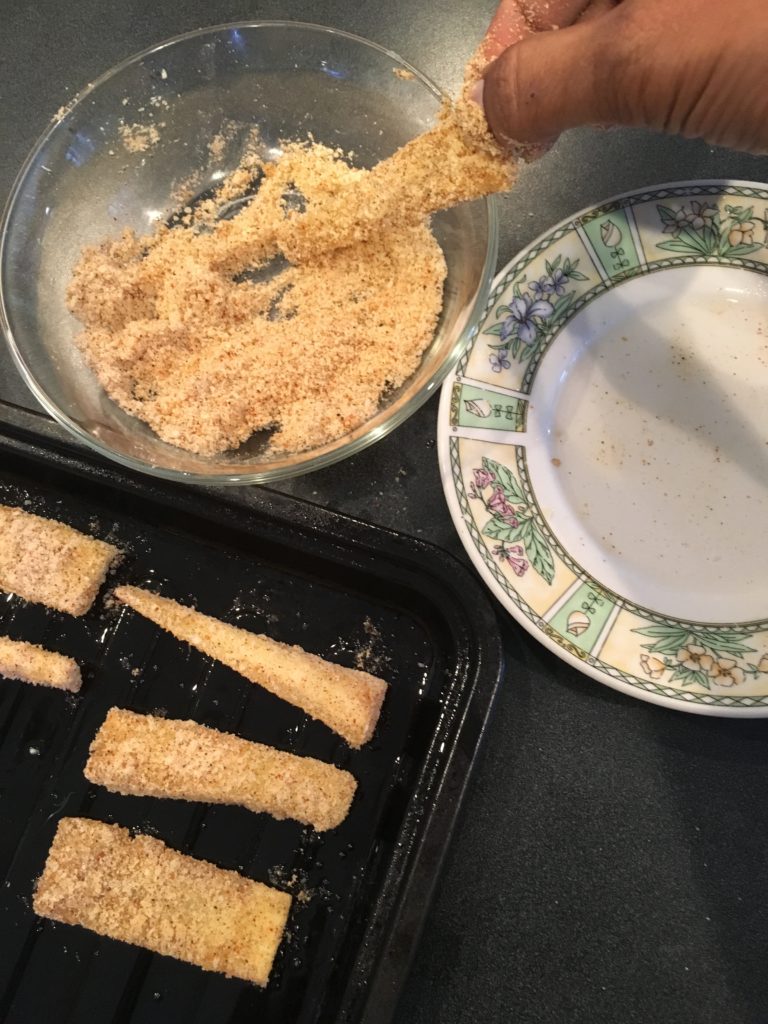 Bake it at 325 for 15-20 minutes. At 15 minutes, I'd start keeping my eye on it. Once slightly brown remove. Mine kinda got a darker brown than I'd liked, but the cheese does turn quick within minutes. It tasted just fine, this is more of a visual appeal.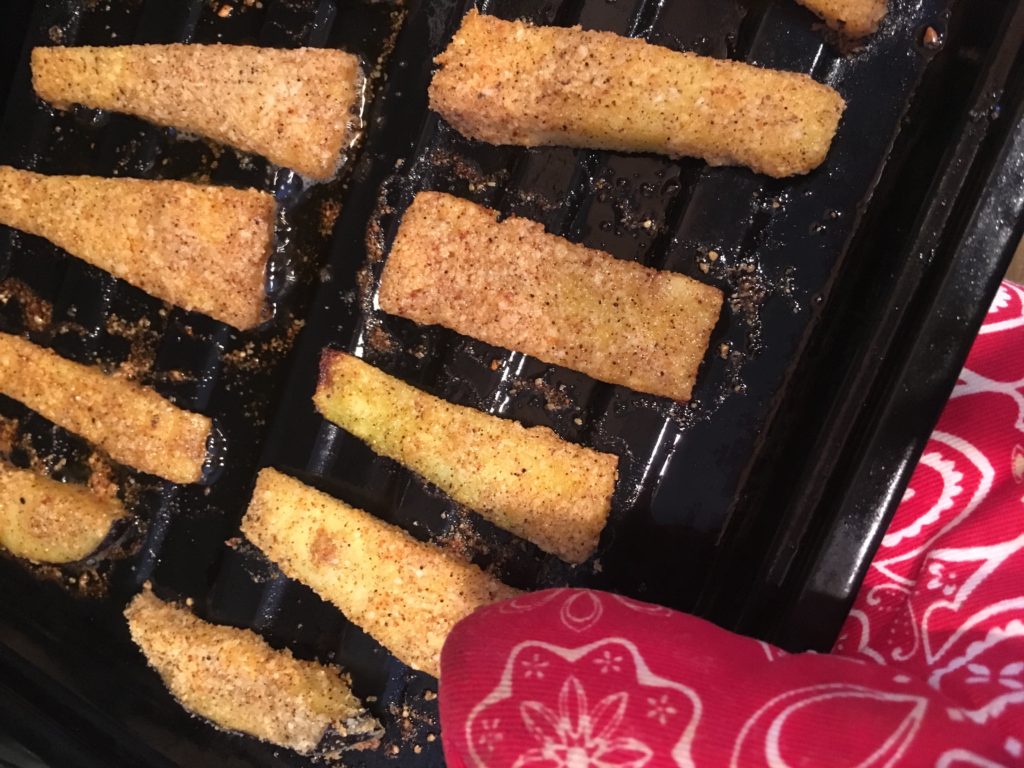 Either dip in mayonnaise or yogurt dip or spicy sauce and enjoy!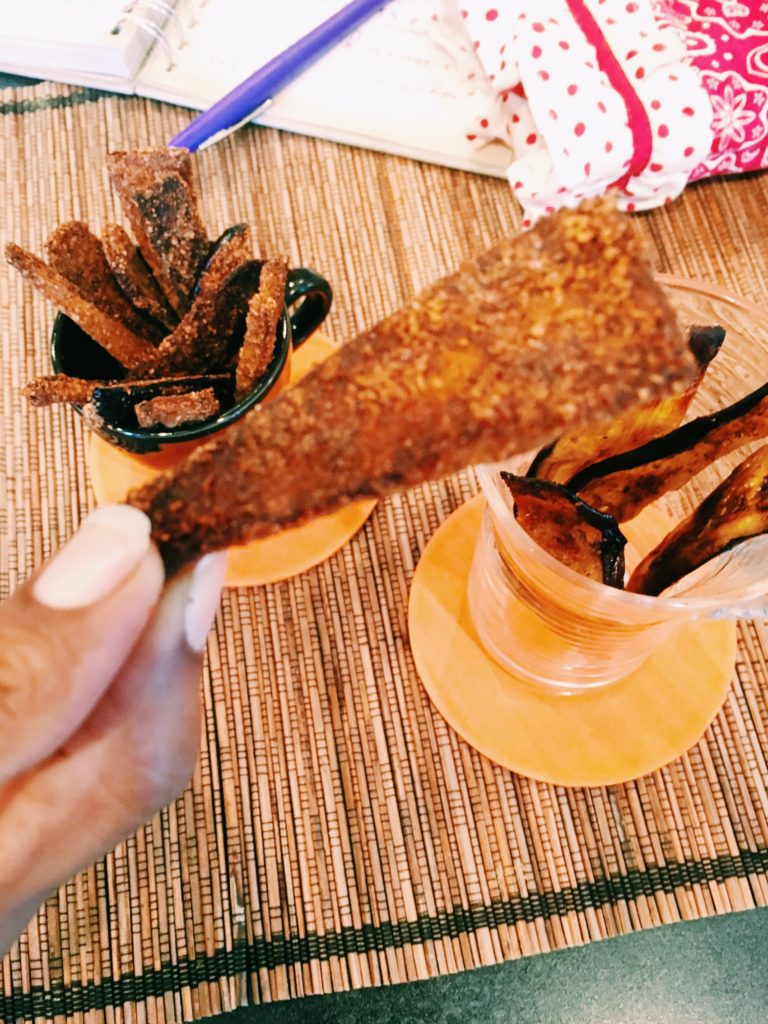 EGGPLANT CHIPS
Using the word chips just to differentiate on the final version, this one is of course, crispier and kinda resembles a bacon strip. (no, am vegetarian but haha)
Make wide, flat and long slices of the eggplant. Since it's thinner, the length helps hold on to the final crispy chip.
Drizzle coconut oil on the slices. Make a mix of salt and seasoning and dust all over the pieces and on both sides. Lay flat on the baking tray and pop into the oven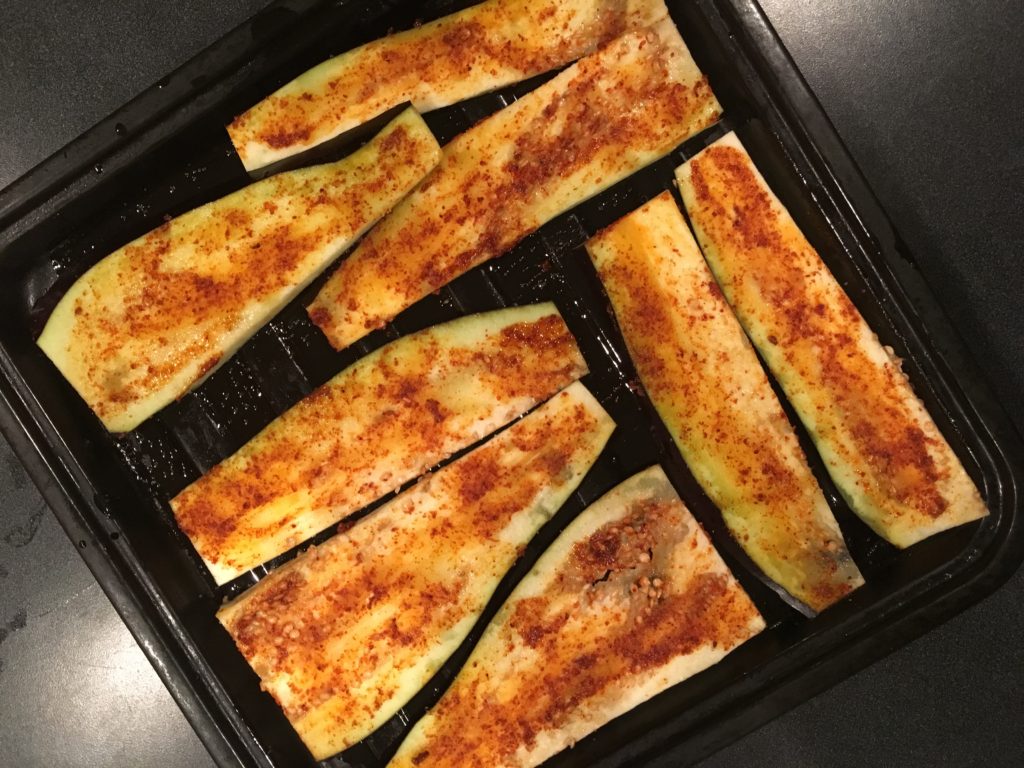 Bake at 325 for 15 minutes or less. After 12 minutes, keep an eye on it. It burns quick coz, well, it's thin, but it shrivels a bit. Let cool outside and it gets hard and crispy within a few minutes.
Dig in!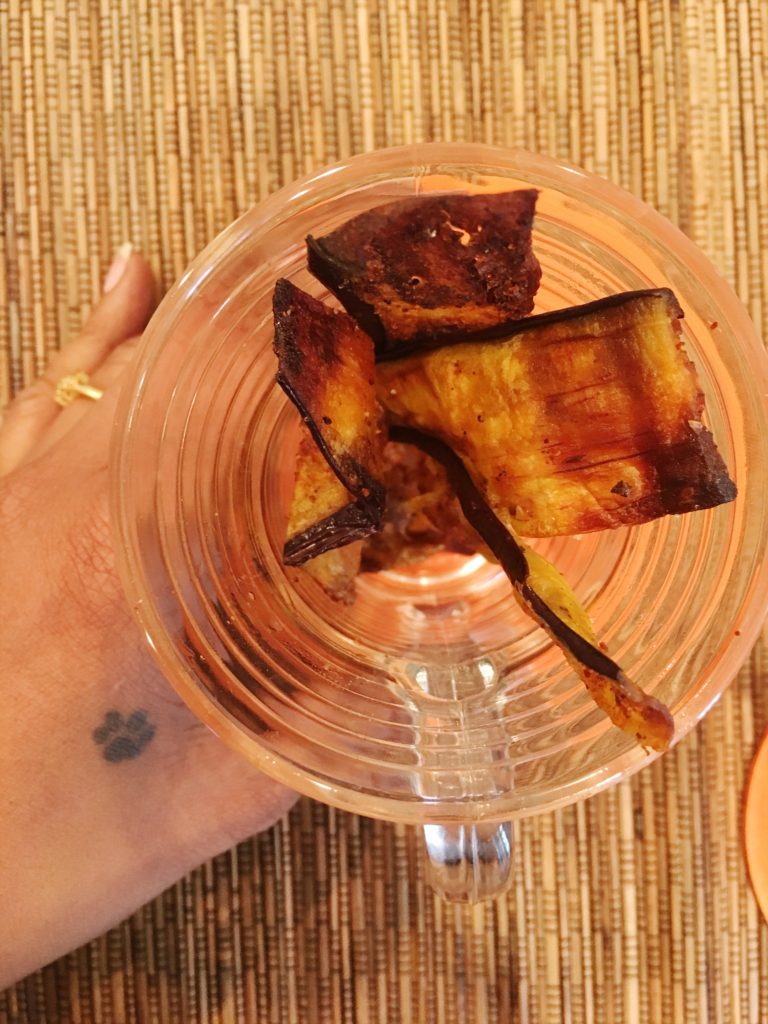 If you do make it, let me know here or on Instagram – would mean the world to me. 🙂
***
This is part of the #AtoZchallenge where I am posting a recipe a day mostly related to Keto and/or the low carb diet. If you are new and here the first time, these are the earlier posts:
A – Grilled Asparagus with Lemon Butter 
***