Very sweet movie. It's a feel-good one, simple, engaging in every scene, no histronics or melodrama, no one to hate, no one you really want to root for either. It has a steady pace, the actors played fine, a balance one has to see to enjoy.
I loved the background music through the movie. I usually find it quite annoying, especially when the violin hits the high notes, or the drums beat yours silly during the intense scenes, but here it seemed to fine tune and complement the dialogs and emotions exceptionally well.
The camera is just awesome. The scenic views of Godavari river, the hills alongside it, the steamboat on which the whole story plays are captured ever so beautifully, it's almost like you want to sign up for the ride.
The language hit home. Simple in its effect and delivery, the spoken telugu was a pleasure to listen to. There was the 'tugo' dialect language interspersed and though I am not from the area, it brought back some pleasant memories of holidays and time spent in that area.
Kamalini – An absolute deight. She has the right amount of spunk, joie de vivre, and vivacity that the character demands. She portrays a young girl, wanting to make it on her own, frustrated with parents' pressures, tough enough to make a trip on her own, and gutsy enough to stand her ground. She shines towards the end as she gains maturity working through her conflicts, sorting through her emotions.
It's like she's an open book.
She looks gorgeous too – and am sure any guy with a bit of telugu in him would be all over her. Let me correct that – it should read any desi-guy. Telugu is subjective opinion. 🙂
Sumanth – He was a huge surpise. I'd seen him in an earlier movie and hated him. Literally hated him. His body language, and his jumping up and down throwing his arms around [he played a mean action dude, who actually looked more girly than macho] Shekhar Kammula has sobered him down very well. He does his thing with controlled panache, with very slight expressions flitting across his face that if you blink, you'd miss it. Sumanth is a pleasure to watch when he has a fond look for his cousin and then the way he handles Kamalini's flirtatious talk and walk. They make a cute pair. Too bad, Kamalini has decided to quit movies?
I should mention this girl – donno her name – but she stood her own despite her character not being as strong as Kamalini's. She had an ethereal wispy look, delicate and sweet. She probably will fade out quick.. just a whim.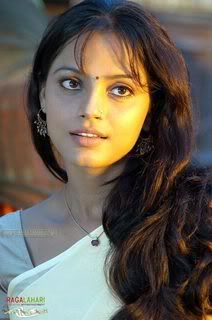 I liked the animated dog the movie used. It's monologues were quite funny, and it was a definite whimsical addition to an otherwise down-to-earth movie.
Tanikella Bharani – Ive always liked the guy's natural stance in front of the camera. Here though in a tiny role, he makes his mark.
Songs – 3 of them.
Title song is full of life, and has some pretty classical lyrics.
The rain/boat song was fun.
The flirty one is funny – esp the way Kamalini tries hard being sexy [she's beautiful, not sexy] and her actions with her hands. I guess it was meant to be that way. 🙂
Verdict
If you understand a spattering of telugu – please please watch it.
If you are okay with following sub-titles, please rent the dvd. My kids enjoyed it immensely.