The book, Harp, by Nidhi Dalmia came to me as part of Blogadda's Book Review program.
Reading the blurb, I was excited for the book and was frustrated I couldn't start it off right away. I was in the middle of another book, apart from general duties one happily thrusts upon themselves, and the delay was inevitable.
There was a promise of the 60s love affairs between three distinct characters spanning three different continents. Coming of age, young love, sex and the freedom to explore while they looked for meaning in relationships and the life around them was hinted and that piqued my curiosity.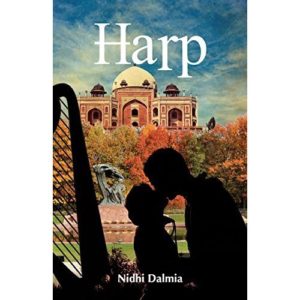 Harp is a mainly the story of a young man, idealistic and unanchored, as he finds his way through Europe as a student and then in India. Europe in the 60s was an age that immediately brings to mind the carefree lives of the young ones, living life to the fullest. It's an age that I could never relate to, just borrowing from arts and movies, and I waited for the pages to unfold in the glory of that experience. It did not fully whet my appetite and I was left starving for a setting, for the protagonist to build a story upon.
He meets Lauren in Poland, and their love connection is heady. Their lives intersect, pull apart and then intersect again, and I wished for her character to be worked on more. It would have been interesting to see what else made her apart from being in love with this man. To that extent, her conversations with the other girl were about Ashok, and nothing else.
The story jumped along haphazardly and the writing was hard to relate. There were snippets of other lives that came in and went but the lack of characterization of the main protagonists was the place where I could not hold on any longer. A better choice of words (and editing) could have worked in its favor.
It seemed like a book that was hurriedly put together. There is a story in there somewhere, but without fleshing out the sequence, characters and the flow, it felt like a draft that needed an editor and a boatload of clarity.
Unfortunately, I could not continue and had to abandon it mid-way.