I recently added this book, 84 Charing Cross Road on my Goodreads list as someone, and I forget who, had chalked it down to the "To Read" list. I am looking to expand reading styles and this appealed to me for the little blurb mentioned books, letters and that the story was set back in the 1950s. I was pleasantly surprised that our public library carried it and it jumped right into my hands within two days. I was already in the middle of another book, but the size of the book, a mere 84 pages (see how clever the title came about?) and the charm of the English and long distance friendship wooed me in and I was hooked.
For a more serious reader and one who is not afflicted with ADD or chores to do, this is much like that satisfying happy nap that one takes on a lazy Sunday afternoon. The book could also be finished in less than a couple of hours (or less) when uninterrupted.
I, of course, took a good 3 days.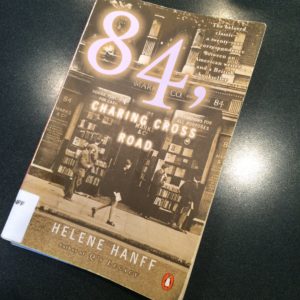 Ive always romanticized letters, the handwritten ones especially. I also love the concept of letters bridging two people, and each showing little tiny parts of themselves in each. It was a style that I once entertained when I was thinking of writing a story myself. It's not a terribly unique style, it has been done and will be done for sure more, coz of the old world charm it exudes.
It's a correspondence between a lady, a customer from the US and a gentleman who runs a rare bookstore, Marks & Co, at 84, Charing Cross Road, in London, spanning 2 decades. The letters date from 1949 through 1969, and we get a peek of their lives and the trust, faith and warmth that they weave through the little anecdotes, peeks into their days, and relationships, many told, and some untold.
The woman is witty and funny in an irreverent way, belying the times the story is set in.
The man is courteous and patient, much like a Britisher would be, regardless of times.
The letters are short, to the point, with little ramblings. They speak about the books that connect them via transaction, each realizing that the tastes overlap well, and a little pleasantry on their days or the state of the country with mentions of the coronations, Adlai Stevenson, the Rationing of supplies and the individual lives of everyone else who worked at the bookstore, including the old neighbor who sews.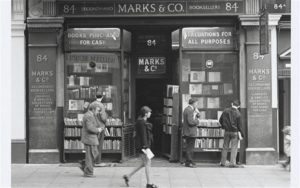 The story is there, yet not there. Told the way it is, one can only imagine how long the letters and parcels took to reach, and gives an idea of the kind of literature that one could label as "antiquated" and the costs! By God, we could only afford an ill-looking McD burger for that price now!
This book is a classic example of the untold stories that only a delightfully clever author can spin, and one that takes a certain astute sense of reading between the lines to get the full characterization that holds the story together. It makes it especially more challenging to not tell all, especially when one is writing from memory, as this was Helen Hanff's memoir – a series of letters that she decided to go ahead and publish (which we come to know at the end). I am unsure if the letters were printed as is, or there was some editing, including rewriting of some – coz some of the lines were pure gems.
On gifts (a sentiment I share as well)
I'll have mine till the day I die – and die happy in the knowledge that I'm leaving it behind for someone else to love. I shall sprinkle pale pencil marks through it pointing out the best passages to some booklover yet unborn –   Helene
..and about books and the tragedy of the quality of books that now are in plenty. If she said this in the 50's imagine what she would say now?
"I personally can't think of anything less sacrosanct than a bad book or even a mediocre book"
To my pleasant surprise, I found out that this book was made into a movie, by the same name – 84, Charing Cross Road! That makes me even more curious now to see how none other than Anthony Hopkins and Anne Bancroft could have portrayed this sensitive, warm story. It's a delightful collection and I can only envy the relationship they shared.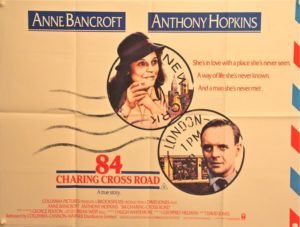 Now, to go find a celluloid 84, Charing Cross Road and watch it. Maybe this will be one of those rare times when the book and the movie will match up just fine after all! Watching Mr. Hopkins in this role would be a treasure! Look at him!