So here's the view from this closed door office Ive been assigned to. Yes, yes, I know there are brick walls and am looking at the rear end of Giant Foods, but hey, there's that sliver of gray sky with trees on the horizon which more than makes up for everything else.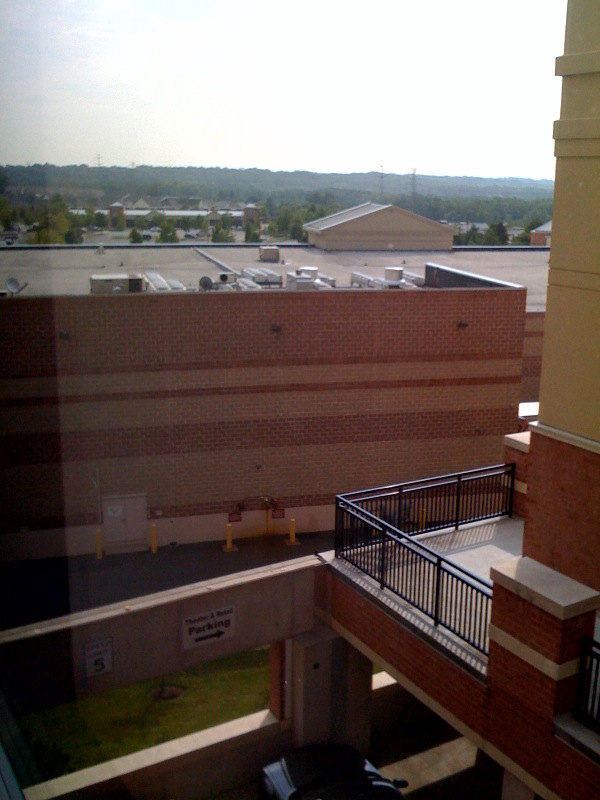 I think I miss my shoes though..
So yes, this is the first, okay, not first but 4th picture (no, can't really publish the rest as they have munchkin posing away like a Parisienne on the ramp!) taken from my brand new iPhone!!
WOOHOO!
I am going to be good and focus on the fact that I am actually holding an iPhone in my hand and enjoying the features it offers me than complain about how the idiot at the att store held onto my phone for 5 full days without calling me, and how the customer service sucked big time and how rude folks really are out there!
..and o – the few who have my number, you are hereby given permission to call me 🙂
Moving on, evening conversation at home.
Me walking into the house singing and brandishing the iPhone in my hand: Woohoo, I have my iPhone, I have my iPhone…
Daughter: Let me see.
Munchkin: I want to see too!
Husband: Did you break it already? oh okay, there's still time?
Son to daughter: Mom is such a baby! She won't let you touch it! Am serious, just try taking it from her. Just yank it!
Husband: Okay folks, the thing costs a fortune, no yanking absolutely!
Munchkin: Mommy, can I see the iPhone?
Mom: No munchkin.
Daughter: Mom, look at the poor baby, she's asking so nicely too! Let me see it!
Me: No guys, not a soul's touching it. Let me figure this thing out.
Daughter: That's my point. Let me do it for you.
Son: Yeah mom, it will be a whole lot easier I assure you.
Husband: Yea, just hand it to munchkin, she can sync things up for you by the time you open that manual and search for stuff.
Me: Argh! I so can do it myself!
Son: Sure mom, who helped you dial pinni (my sister) in the car?
Me: That's coz I was driving! Not coz I didn't know how to dial!!
Daughter: That's what they all say…
Munchkin: Mommmyyyy, pleasesse can I see it? Please?
Me: Munchkin, just wait a bit, let me set things up and then you can see okay?
Son: Sheesh mom, you don't follow what you preach. Share, you know what that means?
Me: That's it, shush up all of you and no one dare come and bother me!
*off I march into the study to sync stuff up to the Mac*
Daughter: gee mom, what a baby!
Munchkin following me on her toes and in her sweetest sugary princess voice: Please mom, can I just touch it once? Please? I will share my gum with you?
Me: Munchkin, no.
Munchkin silently stands there staring at me. She then places her hands on her hips and continues to glare. It was getting icy cold in that tiny room.
Me: Alright munchkin, I will let you look at it, but first I need to do some things with it.
Munchkin: What things?
Me: Just things.
Munchkin: Mom. This is not fair.
Me: I know baby. Life isn't.
Munchkin: Huh? what did you say?
Me: I said, Wait. You need to learn patience. Let me finish first. Mom needs to play with this first.
Munchkin rolls her eyes: Mom! How old are you?
Me: eh?
Munchkin: No, tell me how old are you? Are you 4? or are you 34?
Has an exasperated look on her face and makes a scene of walking in a huff towards the door. Stops, turns around: Mommy, you are not 4. I am 4. You are a people, a person, like big person. You are not a baby. I am the baby. I need to play with the iPhone not you! Gosh! I am not going to be your friend ever ever again!
Stomps out of the room, while I continue to sit there and play.
Dear munchkin, your mom is a kid alright, ask anyone, they'll tell you!