Over the last week Ive discovered that the munchkin can yield a pencil like a natural. She draws perfect round golgoppa type circles, and keys in laddoo shaped eyes with perfect sticks for eyelashes. For the most part the pictures either are me or her sister, and she even shapes in the daughter's rectangular glasses.
Today while I was hammering away a comment somewhere, munchkin droned on like a bee:
"I want to draw mommy, gimme paper and pen."
"Ok, here's a paper" *handing her a one-sided sheet, did I tell you I hate wasting papers?*
"Not this one, I want a new one."
"fine, here's a book, and here's a pencil"
"MOM!"
"what?"
"I said, I want pen, not pencil"
Long story short, she finally started work on the sheet with a pencil that looked like a pen; and unlike how you, me and mere mortals draw, with the sheet laying flat on the floor with us bending all over it and smudging every little mark, she stands facing the wall, and with a serious concentrated pursed lip and scribbles away. The sheet's laying flat against the wall, and the pencil's moving with ferocious speeds. I think to myself, if not anything she'd make a good elementary school teacher!
I get back to emails. I am hardly done with one, when she flashes the paper brilliantly under my nose. This is what she drew.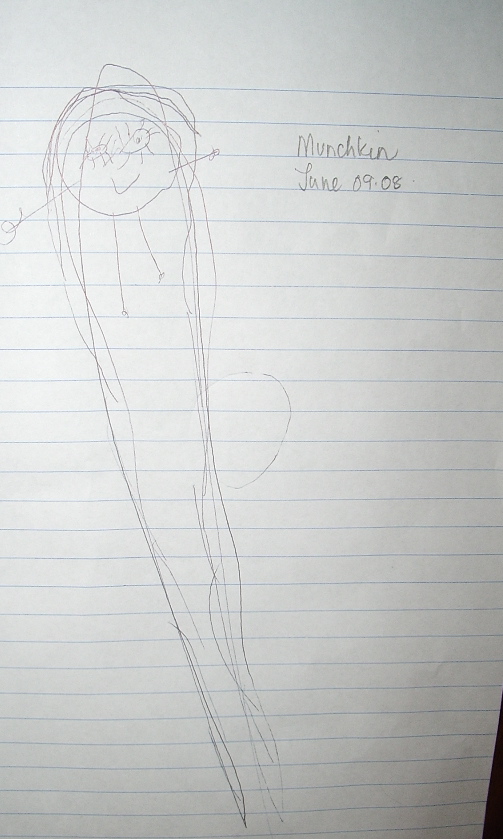 I thought the expression was priceless, and continuing to flatter myself said:
"Nice picture munchkin, so my eyes look that big?"
"Mommy, those are my eyes." *in a solemn patient tone*
"oh, okay. You are smiling?"
She nods.
"What are those sticks on either side of your face?"
"They are my hands."
*okayyy, this is what happens when too many people pinch little girls cheeks. The girls imagine hands sprouting out of them*
"so whats all these long lines on either side of you?"
"That's my longggggg Ju" *ju is short for juttu, which means "hair" in telugu*
..and that's when I felt a little pang for snipping her hair off. *sigh. Curse the damn job, the drive and me leaving before she wakes up*
"but you don't have long Ju right?"
"but I want me to have long ju, just like Ariel and Cinderella. Don't cut my hair ever ever ever again ok, or I won't be your friend?"
"Okay, I promise I won't" Laughing, I kiss her on her upper lip.
"Mommy, are you being a boy?!"
?! *argh*