..of a piercing love. Right. It's that intense feeling. The one that's consumed me since last evening. Since I got back from IKEA and stepped into my kitchen, and after resting my poor aching feet for a good couple of hours, and when dinner time beckoned. That's when it happened.
***
Bit of a story before I tell you all (I am not called a rambling tease for nothing):
Q: How does one make an average IKEA trip, exciting?
A: Drive alone and leave the husband home.
No, really. Someone called me mean, but think about it, why would any husband in his right mind want to accompany his wife to a store if it isn't Best Busy or equivalent. Is that a fair statement or what? The corollary works too. No wife in her right mind would want to drag her husband to any kind of store dampen her mood? Retail therapy has known to work wonders on many a hormonal woman.
That said, let me go on record and say I do not like shopping. Nope. Yes, am a woman. No. I do not like the mall very much, I do not like the crowds, I do not feel the rush of a bargain. Over the years, shopping for pleasure which never really grew beyond the nascent stage is now dead. As in, shopping's a necessary chore. Unless there is a necessity, there really is no need to ever step into a store. That would make me either old, or not feminine or both. It doesn't matter.
Every rule has an exception. So says Murphy's law. My exception is this gorgeous delightful place called IKEA. If I die, and someone really desperately wants me to come back alive, they just need to whisper the magic word and I'll be up and strapped in the car gunning at ridiculous speeds towards the nearest IKEA.
It's the whole European simple compact way of life that's gotten me hooked since I first stepped into it at Zaventem in 94. That's where we bought our very first chest of drawers and a wardrobe for our very first home as a couple in Ixelles. The memories of dragging the heavy pieces up three floors and then spending all weekend fixing them, I was about 4 months pregnant. Heavy lifting didn't faze me then and I doubt either of us thought twice about it. Such nincompoop lovebirds we were. *sigh
Anwyays, out here, it's usually always a family trip kinda thing. The place is an hour's drive away, but life is so busy here that it isn't near enough I'd be dropping by in the time I have now. We enter with an explicit plan all laid out, where I hurry and keep pace with the husband as he's a man on a mission, while my neck's still craning a few hundred yards behind on that lovely bedroom setup or the kitchen. The marketplace is where I could spend a whole day and a large chunk of money too, but it's like pick up what you can by the time it takes him to reach the checkout.
The marketplace: It's a manna isn't it? Deliciously simple stuff. Some days I've just stood there hoping I could start all over again, and start afresh from an apartment. Okay, enough dreaming. I could go on and on about the magic of the place, but I need to remember that this post is about the other love that's happened. Old loves can wait.
The daughter's room needed some furniture and the husband in a weak moment said "why don't you both go pick up what you want?" Not wanting to waste another moment where sanity sets in and decisions could get flipped, we jumped into the van and drove away, and boy, what a fine 2.30 hour we spent. Exhausted but very happy, we girls loaded our purchases into the van by ourselves with some fair amount of heaving and neat manipulation! All along munchkin stood there and clapped her hands and did the cheer, "C'mon akka, you can do it. Yay, you can do it. Good job mom! Yay everybody, we did it we did it!"
See, we have proof!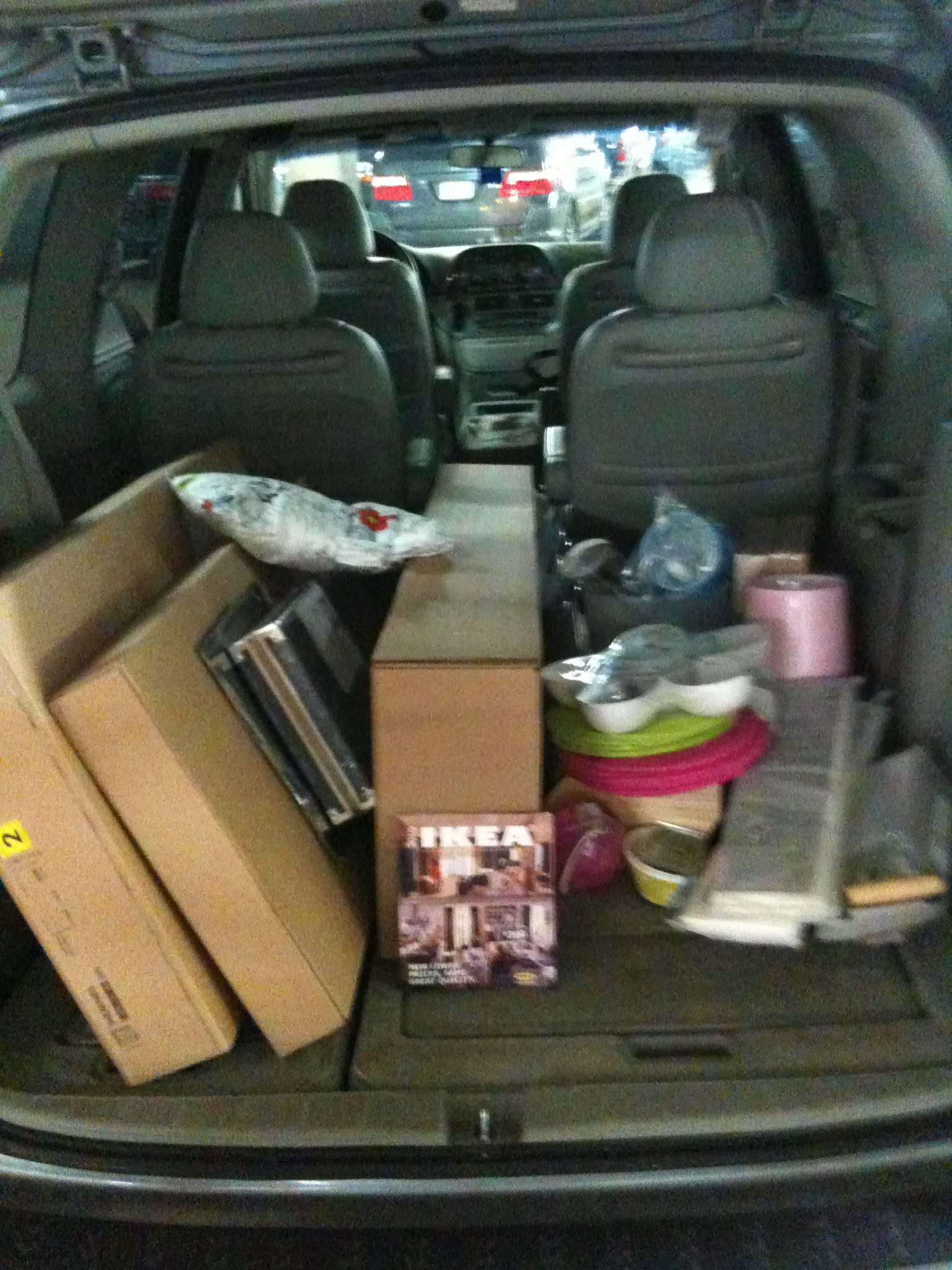 As a side note: that frikking bookcase and chest of drawers were each 1o0 lbs and 160 lbs respectively, that we couldn't move it into the cart and this really handsome lithe young man lifted it up like he was picking up a trash bag and dumped it on our carts, while the daughter and I watched open-mouthed!
Anyways, so amongst that neat pile you see on the right side lay a vegetable cutting knife that I picked up with great hesitation. $15 was a lot to pay for a knife. Yet, unescorted and unhurried, I let my liberties take over and I plunged the case into the cart.
***
Cut to present:
Right next to the stove, amongst the spices and the heat from the wok, the vegetables lay listless on the counter, waiting to be prepped. As I washed and cleaned them, my hand went to my old trusty small vegetable knife. The new member of the kitchen stood innocently still in its wrapping.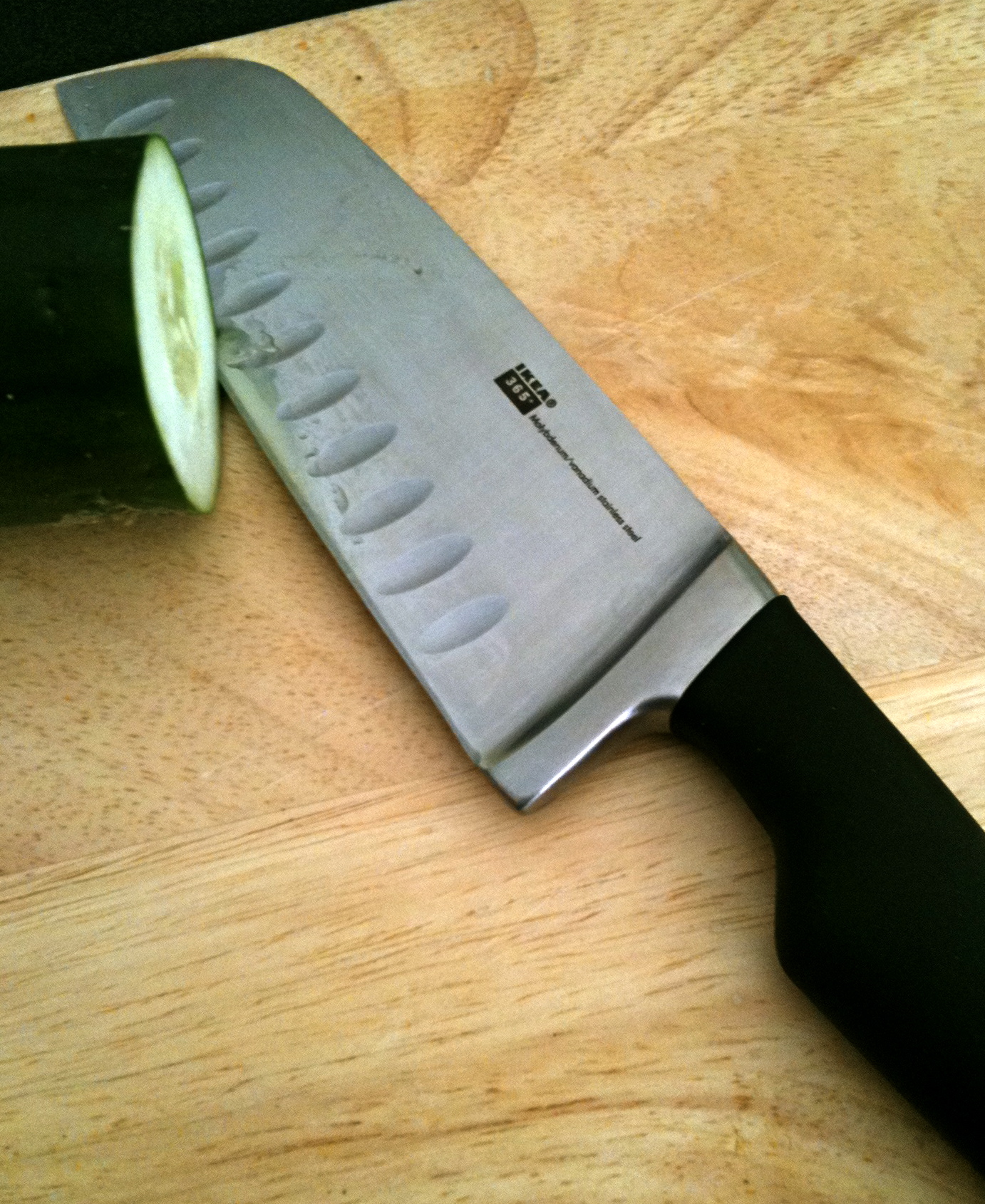 OH MY GOD.
This knife here, it's heavenly. It's so unbelievably sharp and smooth and cuts through the vegetables like slicing through butter! I was on a roll! I showed off my prowess at cutting to evryone who made the mistake of walking into the kitchen. I've been chopping all evening, and I even woke up ay 6 am to cook lunch (well, that's also coz I was back at dance class at 9 and I wouldn't be home past lunch, so it had to be done anyway) but yeah, I chopped the whole tray of vegetables out!
I even stepped out, did more groceries and I have chopped a 2 lb bag of beans into a zillion neat tiny pieces! This is just luxury. Pure luxury. To think I spent 16 years of my cooking life with an excuse of a small knife! It is so sad.
The lunch of sambar and guthivankaya (stuffed eggplant) was delicious, I was told by a well fed husband, and the matar panneer for dinner got the son and daughter to say "mom, this is good stuff you made here"
I fainted.
This of course spells more trouble for me as suddenly the bar's been raised and now expectations are set higher. Then again, I lay it all on the knife. Which I wouldn't have bought if I did not go alone. Which would not have happened if the husband didn't stay home and let me go by myself.
So yes, you guessed right. The husband's claimed all the credit for today's meal. Go figure!