Happy Ganesh Chaturthi everyone! 🙂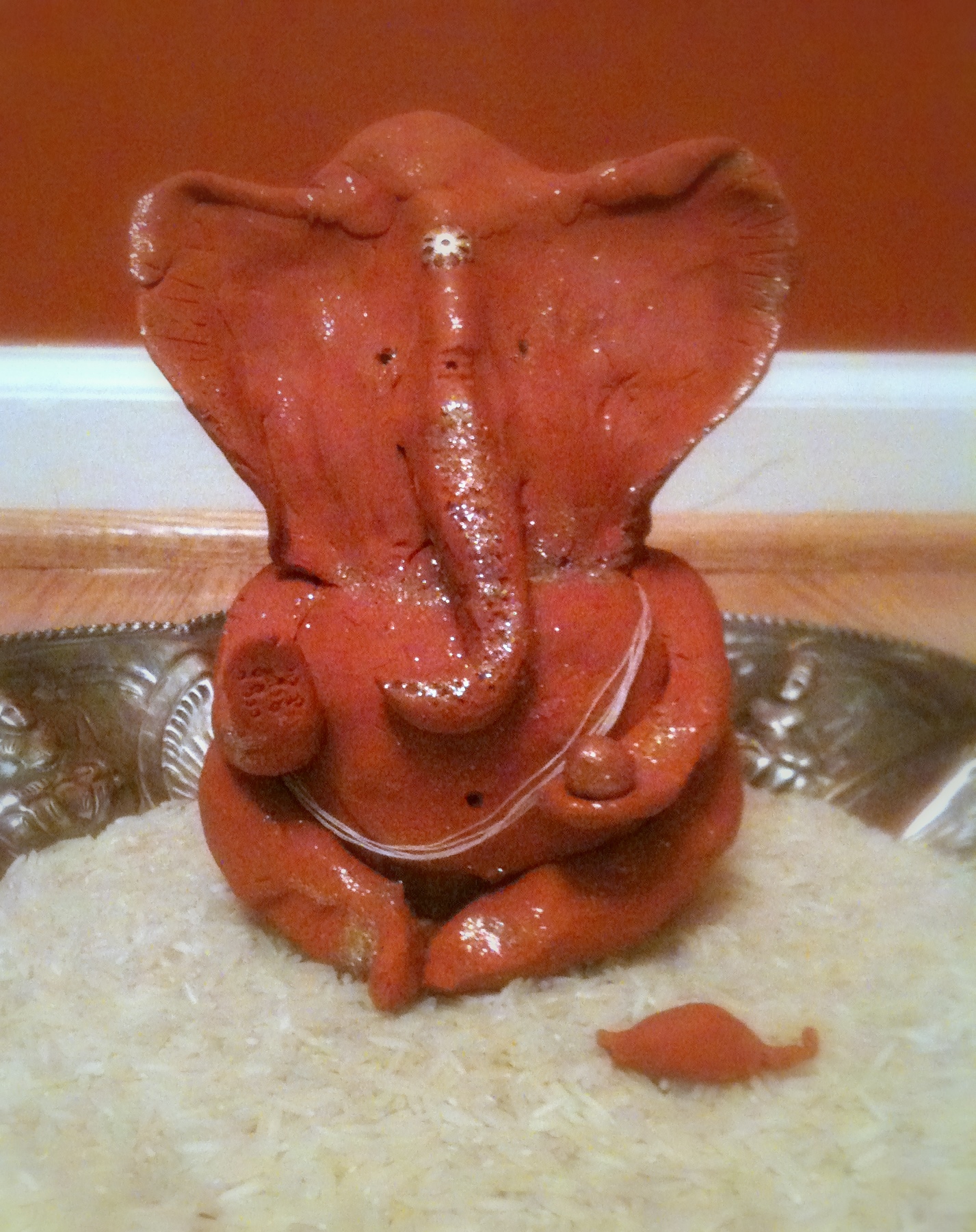 This here is my sweetkin clay idol of Ganesha, though I am not really very happy with the way He turned. His ears especially. You'd think doing this every year should make me some kind of perfecto genius on free forming clay putty, but no, apparently practicing once a year doesn't cut it. 😐
I'll just blame my stupid nails and leave it all in God's hands, since am putty in His fingers. On second thoughts, that probably explains why I have a fat nose, He was just not practicing enough. 😐
Okay, back to this day.
Thanks to that moronic Pastor in the middle of gator land, we are all aware of the confluence of September 11 and Eid this year.
September 11 will remain etched in our memories for many reasons, not excluding the fact that I live in the area that got affected significantly and will continue to be affected with all the policy change that a singular event can bring about in the history of the modern world. From the way we dress to the way we name our kids, to the way we travel, there are two eras in our lives.
Pre 2001 and post 2001.
Try as hard as I may, I can not forget the visual of the moment: coffee in hand, in my kitchen staring at the TV showing smoke billowing out of one tower and the complete incredulity of watching another go in. The events that follow will probably stay long, and clear in my head, more than any other significant event in my life. I am not sure if that is unfortunate or if that's just the way our memories and mind are all screwed intricately and has just become matter of fact.
Then there is this whole drama on the Mosque at ground zero. Unfortunate as it is, people and history have a way of messing life up without trying too hard.
I had more friends who would celebrate Eid, Ramadan back home than I have now, and it isn't out of choice, but more because of the opportunity and the vastness where numbers get diluted. I remember the affectionate hugs, the dressing, the sweets and the smiles exchanged with nothing more on the mind than just a smile and a wish for the best. Maybe it had something to do with being a child, a place one can never go back.
Eid Mubarak to all who celebrate it! 🙂
On a final note, I wrote a guest post for Yahoo! India's Fit to Post blog. and is now published here –  It's a Sri Ganesh in what am hoping in a few paths that hope to lead somewhere, I have no idea where exactly, but I hope they aren't pipe stems or circular paths in the community that is my writing.
I am just going to have to ride it out in excitement and cautious hope to see where I reach. 🙂