When was the last time you picked up a pen, and sat down with a blank sheet of paper to write down complete sentences, not the grocery list, or the check, or notes at a meeting?
Awhile rt?
For some reason, I have felt the need to do so recently. Typing onto a word document the numerous words we casually do has become the norm. Making the whole pen or pencil usage scarce and and in certain ways redundant. It's faster typing and is less stressful on the little bones. While writing, make one small spelling blunder and you might have to start all over again. Electronically, it's a simple button that makes it all brand new and fresh again, erasing the past of a few minutes with ease and elan.
So, over the past few days, when I got some moments, I'd started writing things down. Not necessarily venting or journaling, just abstract thoughts, and random quotes, poems and like. Not all collected into one place of course, we aren't really that organized, but pieces of paper here and there. Every time I did, it brought a smile onto my face.
My handwriting has changed over the years, as a lot more of me. I realized this last week when I opened a recipe book that I'd brought with me from home in Madras. Recipes were written down from way back when I was working at the hospital, before marriage. I remember painfully transferring my random collection from various places into this journal. (Though frankly, I don't think I liked cooking, just the thought of collecting recipes was fascinating enough!)
I also realized that writing differs based on moods. In the recipe book (it was a journal/diary from 1993) in January sometime I was visibly upset with a good friend (TLK. Those days we initialed everyone, part of hospital procedures). I'd written down a few lines, as seen below. Vaguely remember the issue we were having, and how upset she must've been with me too. It doesn't matter anymore. She and I are different people now, and are still friends. I guess that's what it's all about. Forgiving and forgetting. This girl in question and I had very similar writings too. Hers had an amazing style and a flamboyancy about it. Quite like her artwork.
It's funny, I'd even squeezed in a random line about GRE verbals and how I had to work harder to score better in that section. 🙂
The flourishes and sweeps, the stylish tails and loops, rounded occasionally and small yet angular on other occasions, I fell in love with it all over again. I liked it back then. It had a purpose to it, regular, organized like a clockwork. The capital A's (I always wrote a large lower case and called it upper case!) were always the same, the G looped the same way, the S flourished (my original back home name started with an S, and I LOVED that letter. Still do.) the same way, and the T's got crossed the same way. All within one document/piece of writing.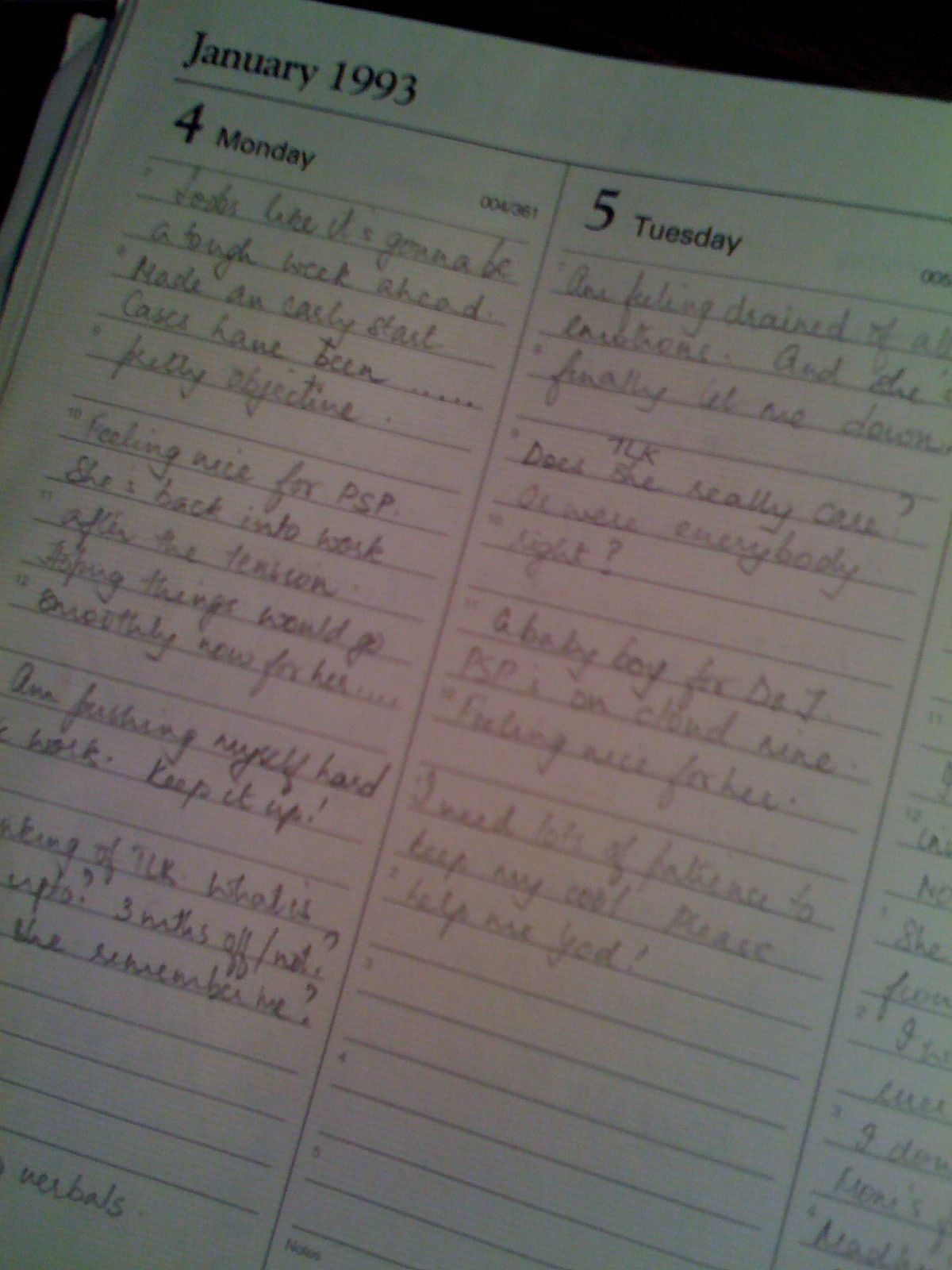 So here's a sample of how I write now. I chose a piece of fable 9-Muse to write. I had to re-write it thrice just so I could get it right in one go and not make blunders. It was that bad. These are lines I also hold close to my heart in the way they turned out. I'd written (typed) that post sitting at work that day, right after lunch, and posted it that weekend.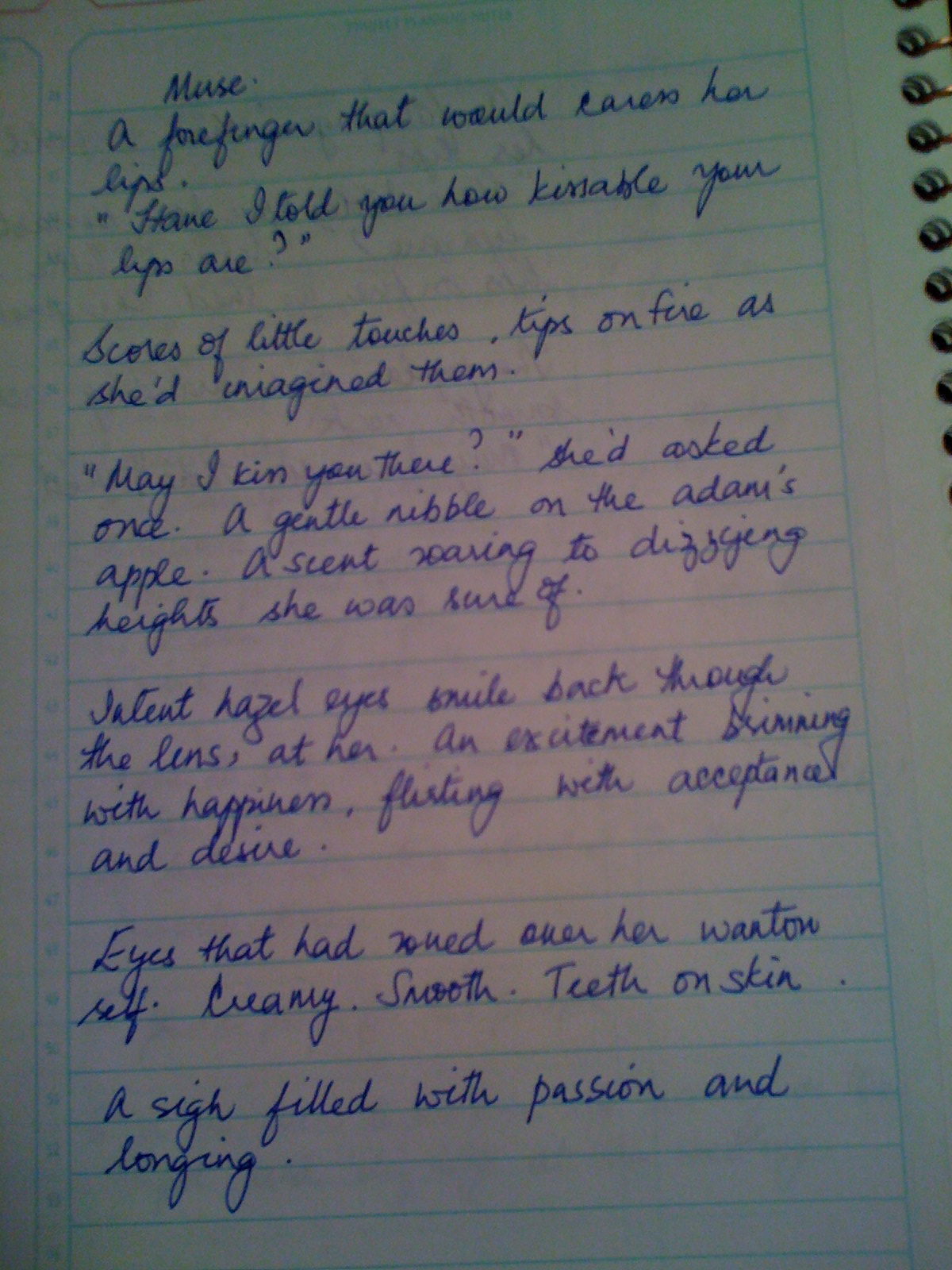 The writing's scratchy, even ambivalent? A single stroke could be any letter, there isn't a certain harshness and a crispness to it, and well, it isn't consistent as much as I'd like it to be. It's larger too. I tried keeping the size smaller, I couldn't. However, between the trials and my little notes around the house and work, they do retain a connectivity.
What do you think? Writing in a way reflects one's state of mind?
I still like it though. It is mine after all.
This has made me curious. I'd like to see how labored or how fun your writing is. Ek Tag ho jaye? Great! Let me tag the ladies, coz we all really don't want to see the guys' handwriting, right? 😉
So ladies – Schmetterling, bg, Neha, Altoid, La Vida, Sands, Chef Priya, Priya, Apple, MayG. May I see your handwriting please? Just the current one will do since most of you may have been in diapers in '93! After doing the post, you may or may not spread the cheer, it's your call.
All it requires is:
5 sentences from your own post, or better yet write the next post out instead of typing.

Link that post, if digging it up like I did.

A pen, a pencil/paper
Scanner/camera
20 minutes of your time.
Also ladies, please bear in mind that you are under no obligation to do this tag. If you are one of those ban-a-tag people, I understand too! Different people, different fun. No big deal!
But if you do the tag anyway, thank you for indulging! 🙂
ps: Any of you remember this tag I started of? 'What's in your bag?' Guess what? I saw it making its rounds sometime even last month. I couldn't believe it! Close to a year and going strong. We bloggers do have a lot of time on our hands don't we?
pps: Happy Diwali/Deepavali everyone. 🙂